Celebrating the great american Songbook
Deanna & the Downbeats has a unique sound that blends the great American songbook, jazz, latin, pop, cabaret & lounge…you never know what you'll get when Deanna takes the stage and the Downbeats dive into a groove!
Deanna Maio specializes in celebrating the best of American classic pop, jazz, blues, and the Great American Songbook.
Blending classic jazz style with vocal standards, show tunes, torch songs, and original compositions, the group's repertoire recalls the halcyon days of jazz and lounge singers such as Anita O'Day, Peggy Lee, Ella Fitzgerald, and Rosemary Clooney. Mixing equal parts sass and class, Deanna heats things up as the sexy chanteuse while The Downbeats stoke the fire with swinging rhythms and hot solos.
Deanna & The Downbeats was born in February 2007 after trumpeteer James M. Gregg approached best friend and vocalist Deanna Maio about starting a group together. James and Deanna and had spent many hours over the previous two years singing and playing through fakebooks full of standards, torch songs and ballads, and wondered what would happen if they took the music out of the practice room and on to the stage. The pair was already working together in musical groups The Swing Sisters and the Bureau of Standards Big Band, and sought a new avenue for their musical collaboration.
Performing their first show just a few months later at Tony Starlight's, the band received an enthusiastic response and calls for more. Now the band continues to play for appreciative audiences looking for something new and different yet still familiar and comfortable at the same time.
In the spirit of their idols, Deanna & The Downbeats pride themselves on an "anything goes" mentality, considering any style, decade, and song fair game for their genre-bending covers of such diverse writers as George Gershwin, Burt Bacharach, Cole Porter, Herb Alpert and even Madonna! No matter what style or song they are playing, Deanna & The Downbeats always infuse their music with energy, charisma and loads of fun!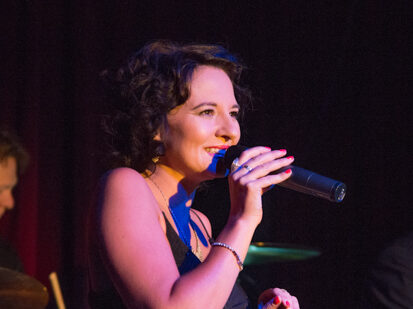 Song List
A Sampling of the Many Tunes in Deanna's Repertoire
Standards & Swing
A Fine Romance
Mame
Ain't Misbehaving
Misty
All Of Me
More
As Time Goes Bye
My Funny Valentine
At Last
My Way
The Nearness Of You
Birth Of The Blues
New York, New York
Blue Moon
Nice Work If You Can Get It
Boogie Woogie Bugle Boy
On A Clear Day
Cabaret
Chattanooga Choo Choo
Our Love Is Here To Stay
Chicago
Pennies From Heaven
Cheek To Cheek
Route 66
Don't Get Around Much Anymore
Satin Doll
Dream
Sentimental Journey
Embraceable You
Smile
Fly Me To The Moon
Somewhere Over The Rainbow
For Once In My Life
Stardust
Georgia
Stars Fell On Alabama
Honey Suckle Rose
Steppin' Out With My Baby
Stompin' At The Savoy
I Could Write A Book
I Don't Know Why
Sweet Georgia Brown
I Get A Kick Out Of You
I Wish You Love
Take The "A" Train
I'll Never Smile Again
They Can't Take That Away From Me
In The Mood
Unforgettable
It Don't Mean A Thing
Up A Lazy River
It Had To Be You
Watch What Happens
I've Got You Under My Skin
What A Wonderful World
When Your Smiling
Just The Way You Look Tonight
Witchcraft
Mack The Knife
Making Whoopee
And Many Many More…